Fast Response Exhibition

Facilitated by the Wellbeing Arts Graduate Group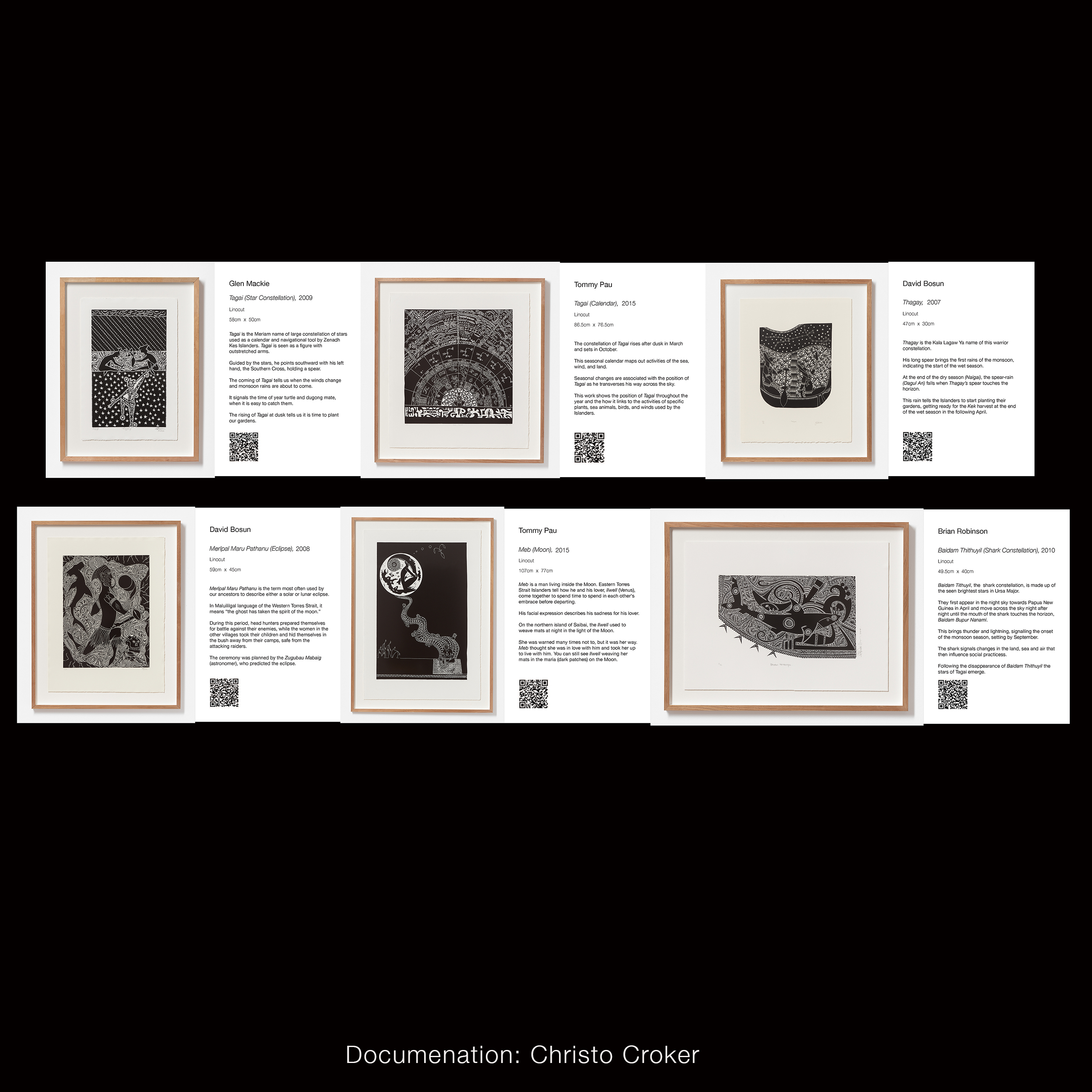 2SP and the WBAGG acknowledge the Wurundjeri and Boon Wurrung people, and their continuing connection to Country and community. We pay respect to all Aboriginal and Torres Strait Islander people and Elders, past and present.
November 23rd - 28th 2021.
Star Knowledge of the Torres Strait

You are cordially invited to the next fast response exhibition at 2SP. To make an appointment call or text 0410644813. Level 2, 95 Victoria Street, Fitzroy. Buzzer 1, top of the stairs to the right.
Saturday, 27th November there will be talks and films from 4-6 pm, catered by Mabu Mabu. The Welcome to Country will be delivered by N'arweet Carolyn Briggs (AM, PhD) and include invited speakers and guests.


Please book for this event using this QR Code.
The Torres Strait Islander artworks and videos focusing on traditional star knowledge.
The exhibition will include Torres Strait Islander educators and academics and will feature a series of talks, and videos of elders speaking about traditional knowledge, songs and dances. The exhibition will include educational films with Elders and talks by Torres Strait scholars and cultural astronomer Dr Duane Hamacher (Physics Debt. University of Melbourne). Star Knowledge of the Torres Strait will share behind the scenes clips of Werner Herzog and Clive Oppenheimer's 2020 film Fireball: Messengers Darker Worlds.Supported by Yarra City Arts, The Laby Foundation and The University of Melbourne GSA special project grant.
Read up about Under a Meriam Moon In the Torres Strait by Duane W. Hamacher.
https://theconversation.com/the-moon-plays-an-important-role-in-indigenous-culture-and-helped-win-a-battle-over-sea-rights-119081
And Indigenous astrononmy at http://www.aboriginalastronomy.com.au/research/projects/



2021-2016
The 2SP Fast Response program are very grateful to be the recipient for the following.
2021, 2020, 2018,
2016
Yarra City Arts
Small Project Grants
2020
Yarra City Arts
Stimulate Grant
2020, 2019, 2018, 2016, 2015 University of Melbourne Student UMSU Union Arts Grants.
2019, 2018, 2017 University of Melbourne Student Services Ammenities Fund SSAF Grants.
2018 University of Melbourne Theatre Board Grants
2021, 2018, 2017 University of Melbourne Graduate Student Association Special Grants.
2018 Graduate Student Association Outstanding Contribution To A Non Parkville Campus Award



Supported by Yarra City Arts.

Your Teapot is Listening

Annual Toys-R-Us exhibition, 30 Jan – 6 Feb 2021


Your Teapot is Listening
Installation View by Jean Baulch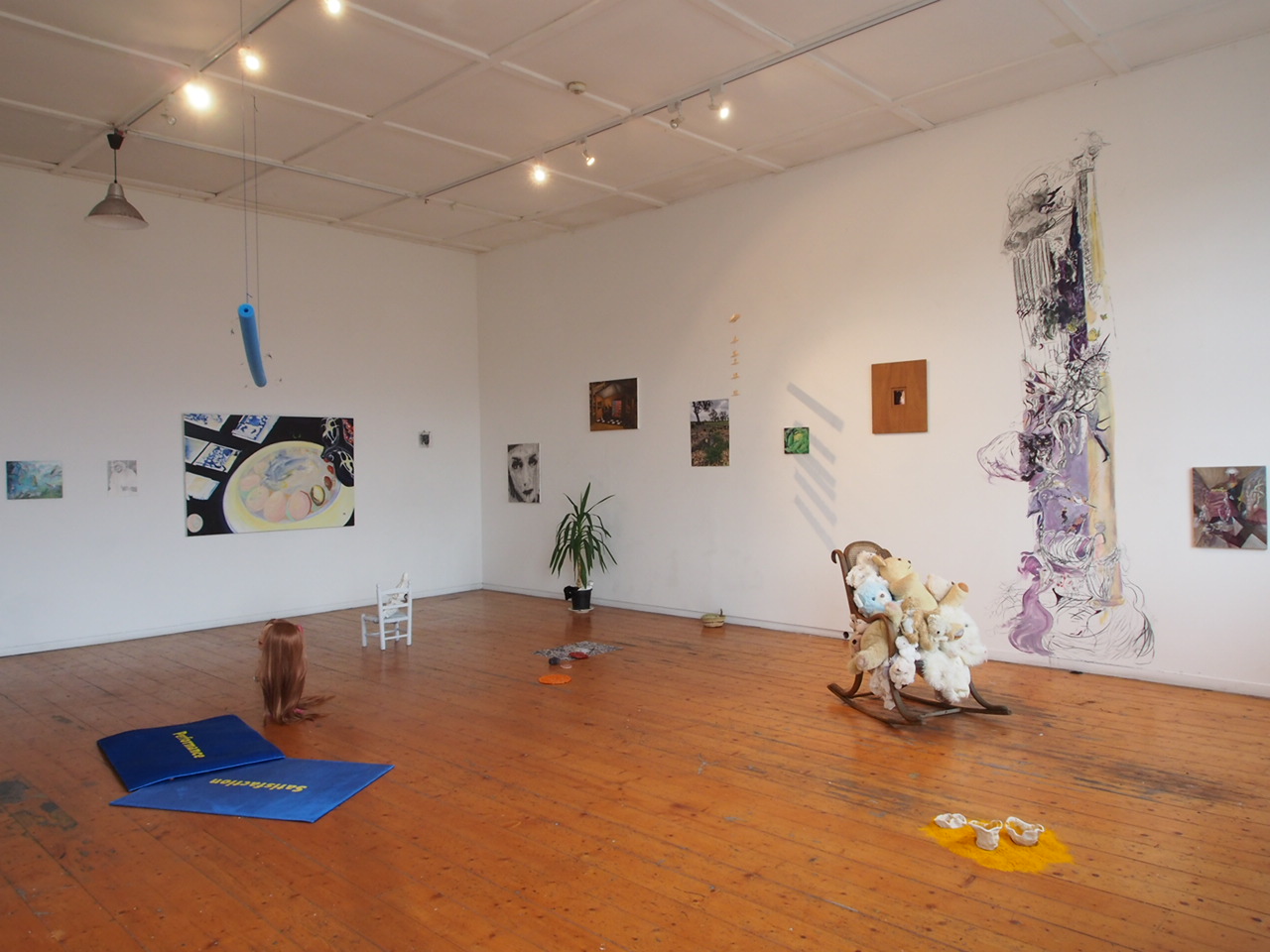 Your Teapot is Listening
Installation View by Jean Baulch



Your Teapot is Listening
Installation View by Jean Baulch



Your Teapot is Listening
Installation View by Jean Baulch

Artworks listed in clockwise order:
Sea of Possibility/Seize the Possibilities, 2020 (Detail. Photography Jean Baulch) Jessie Marshall
Oil on board
Horses, horses, horses, horses
Coming in in all directions
She/her pronouns. Jessie explores imaginative and evocative landscapes and scenes, predominantly through mediums of oil paint, on found wood materials. Jessie is interested in the therapeutic and the escapist potential of painting and drawing, and the ways our childhood preoccupations can be accessed and subconsciously maintained in adult life.
jessiejmar@gmail.com, @arcadialbion

Untitled, 2020 Abella D'Adamo Seed Coat, 2020 Yasmin Hopkins Pinocchio, 2021 Elizabeth Presa
Installation View by Jean Baulch

Untitled, 2020
Abella D'Adamo
Paper, graphite
Abella D'Adamo is a millennial artist who investigates the experience of sex as a 21st century Western adolescent. Inspired by film, music and fashion, Abella creates characters and atmospheres that encompass the identity of merging subcultures that the modern youth comprise of, due to the internet. Through the use of drawing, painting and video art, Abella investigates the confusion, lust, boredom and disgust of finding autonomy in the act of sex, inviting her audience to become complicit perverts in the mass produced, hypersexualisation of the female form. Abella obsessively researches and collects photographic, illustrative, erotic and musical material which she then remixes. Currently, Abella's inventory consists of candid and intimate fashion photography, 'homemade-teen-amateur' erotic videos and 90s era iconographic t-shirts advertised on re-sale sites.

Seed Coat, 2020
Yasmin Hopkins
Oil on canvas, 153x102cm
Untitled (Marionette), 2020
Evan Nilsson
Steel wire, tin foil, polymer clay, hot glue, paper, human hair, acrylic paint, fine liner, GAC100, denim, cotton sock, cotton thread, fishing line, wooden skewers, electrical tape.


Pinocchio, 2021
Elizabeth Presa
Plaster, graphite, found object. 45cmx45cmx47cm
The sculpture is comprised of a child's chair used by the children in my family and a broken plaster sculpture of Pinocchio. The work references the essay 'In Playland' from Infancy and History by Giorgio Abamben. For Agamben, childhood is not a chronological or psychosomatic state with a particular psychology. Rather it is an ongoing relationship between experience and language. It is childhood that keeps and preserves things of value, that unsettles order and authority, and frees us from habitual ways of thinking and acting.
She/her – Elizabeth Presa spends much of her time in Dja Dja Wurrung country making art and writing. She is particularly interested in ecology, gardening as a redemptive and reconcilliatroy action, and familial relationships.

Amnesia (Venom), 2020-21
Aden Miller
Vinyl, polyethelyne, novelty cogs, bronze, patina, metal spring
b. 1999. Artist and co-director of Asbestos. His work is concerned with points of slippage between the mundane and the eerie.
adenmiller1@gmail.com
Untitled, 2020
Kostas Pavlidis
Canvas, 50x60cm
He/him – Kostas examines the performance of life through the construction, function, and overall surplus of the 'image'.


Little Play Area, 2020
(Sunny) Pang Jie Siah
Oil on canvas, 47.72 x 60.96 cm
He/Him – Pang Jie Siah's work explores modern undercurrents that pertain to isolation and loneliness in our current dynamic and rapidly changing society. He immerses himself into old and new sensibilities through different mediums and topics in order explore ideas on the public and private space, societal immersions in media and technology, urban and city life in a society and culture that is in constant change.

Weather Pods
Patching
Objects 1, 2, and 3, 2020
Bettina Purdie
Inkjet photographs – documentation of works in-situ, Horsley Tree Reserve Doreen on Wurundjuri-Willam land. Landscape, weathered clay traces and raffia. Objects – red raffia weavings and raffia basket containing an assortment of collected and made objects including eco-dye bundles of cotton, wool, string, rock and stick, a yellow feather, an embroidered patch, a sample of eco-dyed silk, a sample of buried cotton and raw clay texture impressions. These works were undertaken as both material and site investigation in response to not having a physical studio during the Covid 19 pandemic during 2020. Patching rocks and fallen trees in the landscape is both playful and absurd as the patches weather away until only traces of my presence remain. Working in, collecting and using materials from the reserve, as well as engaging in physical actions such as weaving, helped me to feel connection to both place and collective memory during a time of forced disconnection.
She/her - I am interested in ideas around memory, trace, embodied knowledge, and play as a methodology for making. Working across a range of mediums including ceramics, cyanotypes, textiles, and found objects, making is meditation and mediation of both personal experience and other ways of being. I am drawn to processes that contain an element of chance, or have the potential to produce unexpected interactions, slippages, fragments and uncanny objects.
bettina.purdie@gmail.com, @_bettina_p

Untitled, 2020
Yasmin Hopkins
Oil on canvas
I'm Smarter Than You Think, 2021
Ruebi Smith
Wooden mixed media mobile

She/her –Ruebi Smith examines the convergence of literacy and creativity. When infants are exposed to storybooks and other print media from birth, literacy becomes compounding and intergenerational.
Blush Response, 2020
Timothy Hardy
Framed photograph 420x500mm

He/Him. Tim Hardy's practice looks at desire and belief within today's spiritual vacuum. He's interested in how belief and mystical thought, particularly leaps of faith, allow us to inch closer to a feeling of possibility, sensation and meaning. His images draw heavily from the theories of esoteric psychoanalyst Wilhelm Reich and his concept of the 'Orgone'.
timmarkhardy@gmail.com
dis-comfort, 2020
Jean Baulch
Cane rocking chair, found teddys, teddys that were my grans, mums, and my own

They/them - Jean explores how memories travel through time, and the ghosts that get created when sensations are translated into memory, and memories into materials.
jhbaulch@gmail.com, @baulch_tales
Mewling, 2021
Yasmin Hopkins and Christopher Theofanous
Charcoal, acrylic


Byzantium Plushie, 2020
Christopher Theofanous
45 x 35 cm, Oil on Canvas,
He/him. I am preoccupied with oil painting in a Eurocentric fashion, ranging from El Greco to Matthias Weischer. The subjectivity that I work within often is symptomatic of Grecian, Italian, and Dutch painting motifs of decadent ornamentation. This purposely selected subjectivity is then painted with loose unorthodox colouring, to materialize the self-anointed psyche of the object only previously accessible through phenomenology. This mode of practice is ultimately derived from a childhood practice of depending on Greek Orthodox religious icons for guidance which has resulted in being conscious of a curious mirroring of Byzantine like sentiments within current consumer spaces; high fashion fragrances and even 17th-18th-century portraiture emerges within my paintings. christophertheofanous@gmail.com

Untitled, 2020
Joshua Krum
Diptych with two 60x75cm canvas
He/him – co-director of Asbestos.
josh.b.krum@gmail.com


BOILZ 'N' GHOULZ, 2021
Bon Mott and Sean Miles
Ball and chain, curtain cords, key chains, steel rings, costume jewellery, various beads, chains, fishing line, chiffon ribbon, tassels, plastic glow in the dark stars, silicone butt plugs, crystals, silver copper, gold and silver magnets, printed trace paper, latex, fishhooks, nail polish, lubricant, ashes, charcoal, scissors, tweezers, burnt paper with text, wig, tampons, bird feathers, blood, rabbit fur, bird seed, metal buckles, joining hooks, metal clips, spit, leather, acrylic nails, nitrile gloves, water, bandages, lampshade armature, charred lace, metal spikes, rubber bouncy balls, plastic diamantes, mesh, printed silk, welded powder coated steel, lamp shade armature, crocheted rope, chattering teeth, silicone finger, chewing gum, human hair, badges, gold glitter stars, 1946 half pennies, candle, leather cord, tektite, dried rose petals, glass marbles, fire, shoelaces, sleeves, Teena's Bush Mary photographic portrait, Yasmin's iPhone, Bettina's painted plaster Venus, Christopher's jewellery, Agnes's necklace, Suki's jewellery.

They/them – Sean Miles is a cute Ngāti Raukawa takatāpui artist, respectfully doing mahi on sacred Woiwurrung (Wurundjeri) and Boon Wurrung land in Naarm/Melbourne.
Ia maintains an interdisciplinary practice that centres the correlations between trickster archetypes in ancient mythologies and contemporary queer performativity.
Ia employs simplistic and immediate methods of transformation to shift environments and elevate at-hand objects into ritualistic materials and spaces for performance. Ia manifests visions that expose the horror of colonial and heteronormative social structures and concurrently fosters space for contemplation, healing and regeneration. www.seanmilesartist.com
They/Them/ Bon Mott _/_ -B. California, Turtle Island. (USA). As neurodiverse, non-binary artist and curator _/_dentifies as lightning, _/_ create trans-disciplinary process-driven sculpture, photography and performance art installations. _/_ transdisciplinary installations learn from Indigenous philosophies, astrophysics, alchemy, and neuroscience through the framework of lightning, and _/_ entangle binaries of male and female, and human, non-human and asks if lightning can guide society to expansive possibilities beyond society's current social binaries. _/_ performative installations aim to upturn binary narratives through learning from the trickster. Recent_/_ international exhibitions and performances have taken place in Belgrade, Serbia; Hobart, Australia; London, UK; Melbourne, Australia; Minneapolis, USA; Niagara, Canada; Perth, Australia; Saint Remy, France; Sydney, Australia; Venice, and Italy. Collaborators include Balitronica and Guillermo Gomez Pena, Sabrina Bellenzier, Amanda Fordyce, Sean Miles and Alexander Powers. www.bonmott.com

Bush Mary, 2021
Teena McCarthy
She/her – Teena McCarthy is a visual artist and poet who works predominantly in painting, photography and performance art. She graduated in 2014 from UNSW Art & Design with a Bachelor of Fine Arts with Distinction.
McCarthy is an Italian/Barkindji woman who is a descendant of The Stolen Generations. Her work documents her family's displacement and Aboriginal Australian's loss of Culture and their 'hidden' history. While acknowledging the intergenerational pain of post colonialism, McCarthy uses wit, humour and pathos to explore her own identity. Synchronicity also comes into play in McCarthy's experimental painting, often determining its outcome and informing its own materiality.
The main theme running throughout my work is related to my Grandmother, an Indigenous woman of the Barkindji Tribe from Broken Hill, NSW. Nanna worked as a domestic servant/slave on remote outback stations. These women were called, by the men 'Bush Marys'. These 'Bush Marys' would cook, clean, wet nurse and service the men, I like to work within narratives, based on her life story, her Dreaming - The Darling River, her Country. Within that context, her story exposes layers of meaning about Australia's 'hidden history', such as, the impact of humanity on the natural environment, the effects of Colonisation that has led to the loss of Culture and Spirituality.
https://www.northernbeaches.nsw.gov.au/things-to-do/whats-on/exhibition-teena-mccarthy-down-river-darling

Yellow Vision, 2020
Nisha Hunter
Yellow Daal - turmeric dyed rice paper scrolls with typewriting 1.5x1m
Yellowing Earth - ceramic pots and turmeric
My Memories are Yellow - 2 min 43 sec single channel digital video
She/They - I am an interdisciplinary artist using my practice as an ongoing exploration of identity and the self. The personal becomes political as I employ storytelling and the language of memories and dreams, in an attempt to consider how individual and cultural identity can be made up from subjective applications of experience and recollection. My recent work has been guided by an interest in turmeric, drawn to the yielding yellow, I use the spice within my material practice or allow it to inform the language of my writing pieces.

Child Impression,2020
Caterina Lawrance
Minky fabric yellow, minky fabric orange, soft polyester, faux fur fabric. Accompanied my own transitional object: "Daisy" from the childrens book Come on Daisy!, 1999, polyester fibres, polly-pellets.
she/her: Cat Lawrance is a Melbourne-based printmaker whose work incorporates elements of drawing with intaglio printing to explore cultural identity. Presenting itself as an antithesis of her practice, Child Impression is a manifestation of the sensory experiences pertaining to Lawrance's transitional object, Daisy. The creative process was informed by personal memories, an interview with her mother, Donald W. Winnicott's theory of transitional objects, and an understanding of Walter Benjamin's considerations of aura, with Lawrance abstaining from locating Daisy or photographs. By presenting Child Impression and Daisy together, the viewer can observe this unique amalgam of subjective and objective realities.
catlawrance@gmail.com, @catlawrance

Liminal Memory, 2020
Alex Smith
Inkjet digital collages
She/her - Smith's practice concentrates on exploring duality; the extremities and the liminal space between them. Collaged childhood images create a space that is both highly recognisable, yet unknown to the individual. Through these works Smith talks to how unreliable the reminiscences of childhood is when evoked by nostalgic images

RI MAHTUNEH DENT'AH L'WEHKYEH MIYEH : THE BRICKS IN MY EYES, 2020
Cristina Dawn
Bronze, grey tinted concrete, wood, glass, inkjet photograph
An empty plot
A kiss goodbye
Bricks in my eyes
Cristina Dawn holds an invested interest in bringing permanence to dissolving memory and preserving an expiring dialect only spoken by migrants leaving her family's village, Boiano, Italy, c1950s. Through material realisations, she offers an understanding of how personal identity is moulded and distorted by intergenerational histories. cristinadawn.uva@gmail.com

Fluffy Slippers, 2020
Chalk Hook
Lithograph on Somerset 38cm X 54cm
She/they – Chalk aims to express through lithography the experiences of coexisting tensions.

Come and See the Mornings Here
In Thought
On My Mind
Awake, 2020
Lulu Smith
Oil on linen
She/her - LuLu explores growth in an intimate and domestic space, surrounded by domestic relationships. Personal space like a childhood bedroom and what that can mean in the private of one's own head.

Remnant (Venom), 2021
Aden Miller
Latex, polyethelyne, novelty cogs, glue, vaseline, bronze dust.

Untitled, 2020
Hugo Blomley
He/Him - Hugo is interested in Organisation and Organisational principles.

The Innocent, Everyman, Hero, Outlaw, Explorer, Creator, Ruler, Magician, Lover, Caregiver, Jester, and Sage, 2020
Pip Lennon
Two velvet floor mats, 90x63cm
She/her – Pip is interested in the aesthetic and nature of Self Development culture and its impact/relation to community.



Smile, 2020
Jean Baulch
Dolls hairdressing seat, two hairdressing mannequins
They/them - Jean explores how memories travel through time, and the ghosts that get created when sensations are translated into memory, and memories into materials.
jhbaulch@gmail.com, @baulch_tales
Curated by Jean Baulch and Christopher Theofanous

With special thanks to Bon Mott and 2SP Second Space Projects, Elizabeth Presa, Yasmin Hopkins, Bettina Purdie, and Sean Miles.


2020-2016
You Make Me Sick - Opening Saturday 28th September 3 - 5pm
Friday 28th September - Tuesday 2nd of October
WBA Parkville Master of Curation and Southbank Honours lunch and Artist Talk.
Friday 28th September - 1pm - 3pm
You Make Me Sick
The aggressive sickness you get in the bottom of your stomach when you're falling for someone. We are scared that we will be in a relationship long enough to hate each other. This is a desperate attempt to keep our love from the impending doom of complacency…

'you make me sick' is the third curatorial collaboration between Lucy Foster and Bill Hawkins. Lucy and Bill are both currently studying at the VCA and are in a relationship together. By deconstructing events that occurred on the night of their first date, a number of artists who were present on the evening will be brought together to interpret feelings of love.

Artists: Lucy Foster, Linsey Gosper, Bill Hawkins, Chris Sciuto, Frances Sharp and Andrew Vinh Truong.
Toys R Us

14th of July 3-5pm


Toys R Us group exhibition by VCA's 3rd-year visual art Critical Art and Theory (C.A.T.S) students.
Curated by Chris Madden and Beth Downing.
The Toys R Us show will delve into a collection of childhood and ado- lescence memories, showing a range of sculptural and painted works inspired by the artists' nostalgias. Works will also be informed by the critical writings of child psychoanalysts such as Deleuze, Melanie Klein and D. W. Winnicott.

To complete the theme our Toys R Us opening event will serve as a comforting afternoon tea with nostalgic children's party snacks.